Rock N Roll Paradise coming to Blackpool North Pier
Showing at
Blackpool North Pier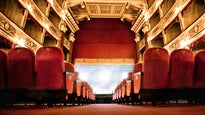 After hosting so many a great event at Blackpools brilliant Blackpool North Pier will be the unmissable Rock N Roll Paradise.
With countless people in Blackpool and from other places wishing to see Blackpool North Pier, be sure you buy a ticket now rather than later so you can prevent disappointment. Don't miss this breathtaking show!
Not all the time you get to see an outstanding show such as Rock N Roll Paradise; the show is a excellent for Blackpool and show fans. If you want to attend, get your tickets securely online below - simply choose your dates and follow the link!
Dates and Ticket Prices for Rock N Roll Paradise (Blackpool North Pier)
| | | | | |
| --- | --- | --- | --- | --- |
| Date | Day | Time | Price per Ticket | |
| 20th July 2011 | Wednesday | 7:30pm | £13 to £15 | Book Now |
| 27th July 2011 | Wednesday | 7:30pm | £13 to £15 | Book Now |
| 3rd August 2011 | Wednesday | 7:30pm | £13 to £15 | Book Now |
| 10th August 2011 | Wednesday | 7:30pm | £13 to £15 | Book Now |
| 17th August 2011 | Wednesday | 7:30pm | £13 to £15 | Book Now |
| 24th August 2011 | Wednesday | 7:30pm | £13 to £15 | Book Now |
| 31st August 2011 | Wednesday | 7:30pm | £13 to £15 | Book Now |
| 7th September 2011 | Wednesday | 7:30pm | £13 to £15 | Book Now |
| 14th September 2011 | Wednesday | 7:30pm | £13 to £15 | Book Now |
| 21st September 2011 | Wednesday | 7:30pm | £13 to £15 | Book Now |
| 28th September 2011 | Wednesday | 7:30pm | £13 to £15 | Book Now |
| 5th October 2011 | Wednesday | 7:30pm | £13 to £15 | Book Now |
| 12th October 2011 | Wednesday | 7:30pm | £13 to £15 | Book Now |
| 19th October 2011 | Wednesday | 7:30pm | £13 to £15 | Book Now |
| 26th October 2011 | Wednesday | 7:30pm | £13 to £15 | Book Now |